Assisted Living, Memory Care & Skilled Care
We offer a wide range of health services to keep you as healthy and independent as possible. This could be help with medication managment, 24/7 skilled nursing care – or anything in between.
Residential Care and Assisted Living
Residential settings in several areas of our campus offer supported care.

24-hour staffing, medication management, daily bedmaking and laundry service.
Services tailored to your needs, including help with daily routines that have become difficult to manage, such as bathing, dressing or personal grooming.
24-hour nursing services and multiple levels of long-term care available, if needed.
Supported apartment living that ensures you stay as independent as possible
Licensed Residential Care Facility (RCF).
For residents who are independent in many daily activities but could benefit from personalized, scheduled help.
Medication management, laundry service, daily bedmaking and many other benefits of residential care and assisted living.
Easy access to Willamette View activities and amenities.
Willamette View Neighborhoods
Licensed Assisted Living Facility (ALF).
Smaller, home-like environment for residents who need ongoing support in all aspects of daily life.
Some residents become more independent as a result of higher staffing levels and full-service support provided in this setting.
Our state-endorsed Memory Care Community meets the highest industry standards for safety, specialized services and long-term nursing care.
Residents benefit from individual attention and assistance from nurses and caregivers.
Full-time Life Enrichment programming, tailored to individual interests and needs, helps residents get the most out of their days.
A home-like, secure environment gives families peace of mind. Residents who may be prone to wander stay safe while enjoying a rich and fulfilling life.
Nearby, our all-season outdoor Harmony Garden provides a safe and therapeutic natural setting.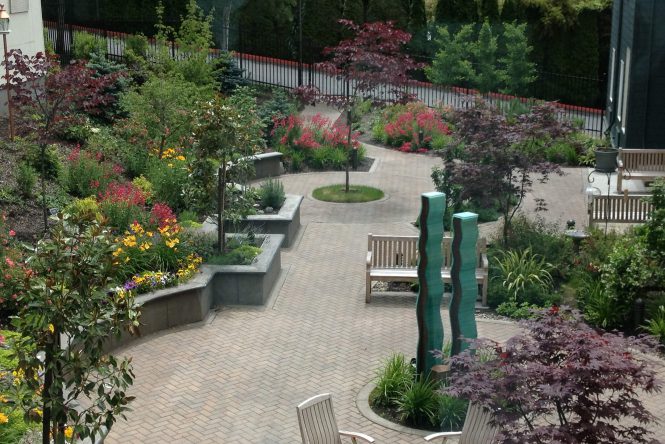 Our six-bed Medicare-certified Skilled Nursing Facility ensures you receive around-the-clock attention and support. This level of doctor-ordered service is available after a hospital stay, for rehabilitative therapy services and for episodic illness care on a short-term basis.
A Registered Nurse (RN) is always onsite to supervise care.
Each private room features an individual bathroom, wireless internet access (Wi-Fi) and an emergency call system.
In-patient physical, speech and occupational therapies are available onsite.